The Story Behind John & Kira's
John & Kira's chocolate creations are made with the finest ingredients sourced from urban gardens and small family farms around the world. We met in 1999 at one of Kira's famed rooftop barbecue parties, where she served risotto and egg cream sodas. John, having lived in both Italy and New York, was quite impressed. Kira was impressed that John was working at her favorite socially responsible restaurant in Philadelphia, The White Dog Cafe. Our love of food and community is what brought us together and has been the driving force behind the company we created, John and Kira's.


The idea for a chocolate company sprung from a road trip John took around the Northeast in search of innovative concepts in food. A boutique chocolate company seemed like the perfect idea as it was fun, creative and could be mixed with local ingredients such as mint from urban school gardens. We got right to work and launched John and Kira's in 2002.
Before we knew it, the editors at Gourmet Magazine picked up on our confections and declared them their "favorite chocolates," prominently displaying our creations on the cover of the Valentine's Day issue of Gourmet in February, 2003. From those humble beginnings John and Kira's has grown and developed many clever and whimsical creations such as Chocolate Ladybugs, Bees and most recently a "Comfort Collection" featuring handmade marshmallow and peanut butter confections.



Today we continue to focus on ethical sourcing and innovative design and look forward to many more years of creativity and chocolate!







Get to know some of our Partners

Our line of chocolates features ingredients from carefully selected sustainable artisan food growers local to our Philadelphia chocolate studio, across the country and around the world.

We encourage you to learn about the producers we support:
- Honey from Draper's Apiaries in Millerton, PA
- Organic lavender from Harm's Vineyards & Lavender Fields in Napa, CA
- Lemongrass from La Vigne Organics, the Beck family's biodynamic & organic farm preserving heirloom crops in Fallbrook, CA
- Ginger from Ellen Sugawara's biodynamic & organic farm on Molokai, Hawaii
- Pistachios grown, harvested & roasted on family owned & operated Eagle Ranch in Alamogordo, NM
- Organic, Fair Trade Certified Earl Grey tea from Arbor Teas sourced from Fair Trade Estates in India
- Singing Dog vanilla sourced from Indonesian farmers
- Organic almonds from Baugher Ranch Organics in Orland, CA
- Barcelona hazelnuts from family owned Holmquist Hazelnut Orchard in Lyndon, WA
- Tart cherries from Michigan's family owned King Orchards
- Blenheim apricots sourced from Fairhaven Orchards in Hollister, CA
- Organic Spanish figs from Ecoficus, a family-run company in Almoharin, Spain
- Cinnamon from Red Ape Cinnamon in Indonesia
- Cashews from Bates Nut farm in Valley Center, CA
- Maple Syrup from Patterson Farms in Sabinsville, PA
- Cardamom, Cloves, Ground Ginger, Nutmeg, Orange Peel, and Star Anise from Frontier Co-Op, a member owned cooperative since 1976
- Pecans from Austinuts in Austin, TX
- Cacao nibs and Coconut from Tierra Farm in the Finger Lakes region of New York
- Natural Peanut Butter from Once Again Nut Butters, an employee-owned company located in Upstate New York

Meet Our Urban Garden Partners
The Agatston Urban Nutrition Initiative (UNI) is a program of the University of Pennsylvania's Netter Center for Community Partnerships created to address issues of poor nutrition and physical fitness in West Philadelphia. UNI organizes school day, after school and summer learning opportunities for more than 10,000 students and their families at 20 public schools in Philadelphia. UNI's ecological approach to nutrition education includes hands-on experiences for students to grow, cook, consume and sell healthy foods.
Common Good City Farm is an urban farm and education center growing food for low-income residents in Washington, DC and providing educational opportunities for all people that help increase food security, improve health, and contribute to environmental sustainability. Their mission is to grow food, educate, and help low-income DC community members meet their food needs. Their vision is to serve as a replicable model of a community-based urban food system.
Teens 4 Good, a program of the Federation of Neighborhood Centers, is a youth entrepreneurship produce and nutrition business that transforms vacant lots into urban gardens/farms, improving access to healthy food for communities, creating meaningful jobs for at-risk youth and empowering youth to become healthy responsible young adults and leaders who give back to their communities.
The Village of Arts and Humanities consists of twelve arts parks and an after-school program for kids in North Philadelphia dedicated to community revitalization. The mission of The Village of Arts and Humanities is to support the voices and aspirations of the community through providing opportunities for self-expression rooted in art and culture. The Village inspires people to be agents of positive change through programs that encompass arts and culture, engage youth, revitalize community, preserve heritage and respect the environment.
Neighborhood Foods unifies communities through urban farming and civic action. The West Philadelphia organization believes in creating shared wealth that is owned by all community members. To pursue these values, Neighborhood Foods is creating a multi-stakeholder cooperative in which farmers, customers and community members can achieve their goals together.
Whitney M. Young Magnet High School is home to an urban agricultural system designed to model a river, which is located in the school's greenhouse. Using sustainable, waste-free gardening methods, high school students and members of the school's Eco Club and Phyt (garden) club grow a variety of produce including mint, peppers, and rosemary which are used in our chocolates. In addition, students learn biology, ecology, chemistry, hydrology, zoology, and physics. Whitney Young has been able to expand its outreach into the Chicago community, helping to provide produce to Chicago's food deserts.

Click here to learn more about our Urban Garden Program.


Taste our Urban Garden Bars
We now make three Urban Garden Bars featuring ingredients from urban gardens. Our Mighty Mint, Tangy Orange + Garden Rosemary, and Chili Pepper + Almond Urban Garden Chocolate Bars highlight fresh mint, rosemary, and guajillo peppers from six urban gardens in Philadelphia, Chicago and Washington, DC.
5% of the sale price of bars goes directly back to the gardens to support the educational programs the gardens provide to inner city youth.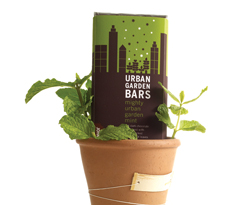 For the Mighty Mint bar (which happens to be vegan), the fresh mint leaves are steeped directly into 62% dark chocolate for an amazingly refreshing flavor that tastes just like mint picked from your Grandmother's garden.



For the Tangy Orange + Garden Rosemary bar, the fresh rosemary is steeped directly into 40% milk chocolate for a delicious and unique flavor that tastes exactly like rosemary picked from a garden.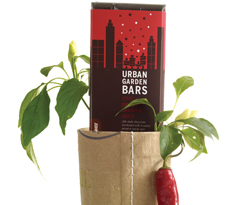 For the Chili Pepper + Almond bar, 62% dark chocolate is combined with almonds and directly infused with fresh guajillo chilies for a delicious and unique flavor that tastes exactly like freshly picked chili peppers.