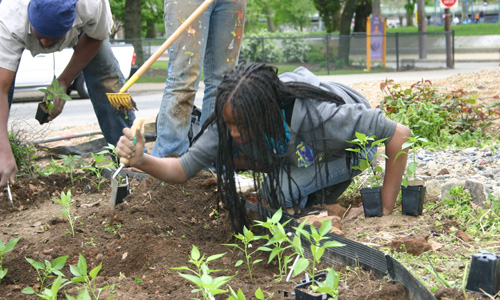 Learn about our Urban Garden Program
When we were first experimenting with flavors for our chocolates, we agreed that to make extraordinary chocolates, we needed to source our flavors from extraordinary people. At that time Kira had been working with a group at the University of Pennsylvania that was spending time in public schools setting up nutrition programs. One of their new efforts was a student run garden at Drew Elementary and UC High School in Philadelphia. We agreed that we needed to incorporate the kids into the new product line, and what better ingredient for the students to grow than mint!
After consulting with the new student gardeners, we settled on a patch of Kentucky Colonel mint, grown and tended caringly by the kids and sold to us every week. We arranged a courier to make weekly pickups, and the partnership was born.
The mint is housed in the students' greenhouse which extends the growing season and allows them to produce higher quality mint in larger quantities. We still use more product than these students can feasibly produce, so we have added a few more urban gardens to our expanding student herb project.
Each garden that we partner with harvests some combination of mint,rosemary, chili peppers, lavender, or other herbs for us that we use to flavor our Urban Garden Bars. We share the story of the gardens on the chocolate bar packaging, on our website, and in our catalog. We supply the plants, buy what is harvested, and also give 5% of all bar sales back to the gardens. We also sponsor fundraisers and awareness campaigns and other activities throughout the year to show our support.
For everyone at John and Kira's, working with the gardens adds so much more to our jobs.
These projects fit perfectly with our philosophy. It is our hope that our creations offer you two opportunities for personal enjoyment. The first is to take pleasure in the amazingly delicious chocolates themselves. The second is the opportunity to commune (through the palate) with the farmers and growers that create our flavors. One of our hopes is that the taste of the bars will pique interest in the school garden movement and ultimately motivate people to support similar local projects.

Meet Our Urban Garden Partners

Each of these five initiatives teaches their students and the community about gardens, biodiversity and instills in them an appreciation of nature. The gardens also provide a safe, supportive after-school space and, through grants and sales of their crops, offers paying jobs for a portion of the students.

Urban Nutrition Initiative in Philadelphia, PA: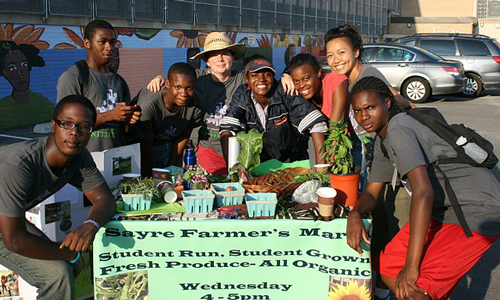 The Agatston Urban Nutrition Initiative (UNI) is a program of the University of Pennsylvania's Netter Center for Community Partnerships created to address issues of poor nutrition and physical fitness in West Philadelphia. UNI organizes school day, after school and summer learning opportunities for more than 10,000 students and their families at 20 public schools in Philadelphia. UNI's ecological approach to nutrition education includes hands-on experiences for students to grow, cook, consume and sell healthy foods.

Common Good City Farm in Washington, DC: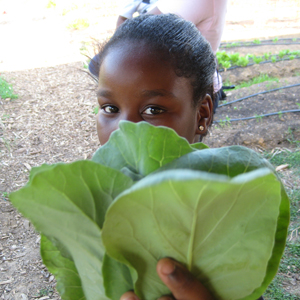 Common Good City Farm is an urban farm and education center growing food for low-income residents in Washington, DC and providing educational opportunities for all people that help increase food security, improve health, and contribute to environmental sustainability. Their mission is to grow food, educate, and help low-income DC community members meet their food needs. Their vision is to serve as a replicable model of a community-based urban food system.

Teens4Good in Philadelphia, PA: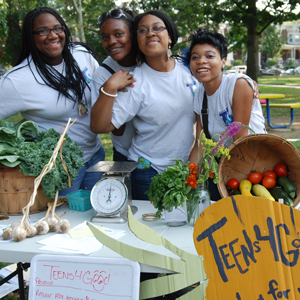 Teens 4 Good, a program of the Federation of Neighborhood Centers, is a youth entrepreneurship produce and nutrition business that transforms vacant lots into urban gardens/farms, improving access to healthy food for communities, creating meaningful jobs for at-risk youth and empowering youth to become healthy responsible young adults and leaders who give back to their communities.

The Village of Arts and Humanities in Philadelphia, PA: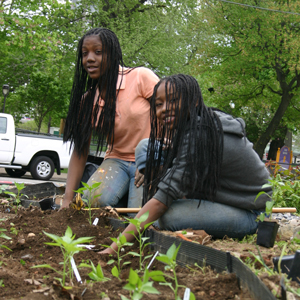 The Village of Arts and Humanities consists of twelve arts parks and an after-school program for kids in North Philadelphia dedicated to community revitalization. The mission of The Village of Arts and Humanities is to support the voices and aspirations of the community through providing opportunities for self-expression rooted in art and culture. The Village inspires people to be agents of positive change through programs that encompass arts and culture, engage youth, revitalize community, preserve heritage and respect the environment.

Neighborhood Foods in Philadelphia, PA: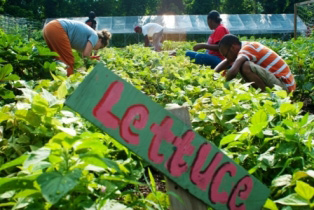 Neighborhood Foods Neighborhood Foods unifies communities through urban farming and civic action. The West Philadelphia organization believes in creating shared wealth that is owned by all community members. To pursue these values, Neighborhood Foods is creating a multi-stakeholder cooperative in which farmers, customers and community members can achieve their goals together.

Whitney M Young Magnet High School in Chicago, IL: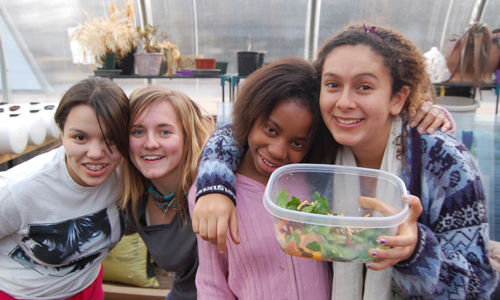 Whitney M. Young Magnet High School is home to an urban agricultural system designed to model a river, which is located in the school's greenhouse. Using sustainable, waste-free gardening methods, high school students and members of the school's Eco Club and Phyt (garden) club grow a variety of produce including mint, peppers, and rosemary which are used in our chocolates. In addition, students learn biology, ecology, chemistry, hydrology, zoology, and physics. Whitney Young has been able to expand its outreach into the Chicago community, helping to provide produce to Chicago's food deserts.


John & Kira's Urban Garden Bars

We now make three Urban Garden Bars featuring ingredients from urban gardens. Our Mighty Mint, Tangy Orange + Garden Rosemary, and Chili Pepper + Almond Urban Garden Chocolate Bars highlight fresh mint, rosemary, and guajillo peppers from six urban gardens in Philadelphia, Chicago, and Washington, DC.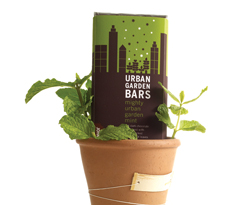 For the Mighty Mint bar (which happens to be vegan), the fresh mint leaves are steeped directly into 62% dark chocolate for an amazingly refreshing flavor that tastes just like mint picked from your Grandmother's garden.



For the Tangy Orange + Garden Rosemary bar, the fresh rosemary is steeped directly into 40% milk chocolate for a delicious and unique flavor that tastes exactly like rosemary picked from a garden.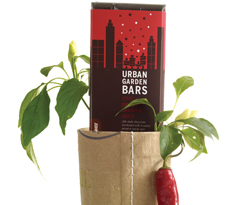 For the Chili Pepper + Almond bar, 62% dark chocolate is combined with almonds and directly infused with fresh guajillo chilies for a delicious and unique flavor that tastes exactly like freshly picked chili peppers.

5% of the sale price of bars goes directly back to the gardens to support the educational programs the gardens provide to inner city youth.